IN THE JOURNAL | INDONESIA 360
Promoting public health: Can fiscal policy play a role?
January-March 2015
The government view
Chatib Basri, former Indonesia minister of finance:
First, I want to thank Strategic Review for the invitation. I thought that I had to talk about something relating to macroeconomic stability, or something like that. But when [I found out] that the topic was public health, I decided that I had to come because this is an issue that is so important for Indonesia.
We have listened to Pak Amal and Pak Adhi and their sectoral perspective. I would not argue that it was wrong or was not needed. But perhaps, to complete it, we have to see the big picture.
'Jurassic Park'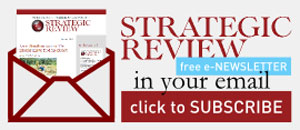 STAY CONNECTED TO SR INDONESIA