IN THE JOURNAL | INDONESIA 360
Promoting public health: Can fiscal policy play a role?
January-March 2015
The implication is that this will make the US less dependent on Middle East oil. At the same time, China is entering an era of normal economic growth of around 7 to 7.5 percent. [Because of these factors] I can predict that in the next 5 to 10 years, energy prices will decline. And therefore, commodity prices will decline.
Countries like Indonesia have 65 percent of our revenue and exports coming from commodities and energy. This means, our current strategy can't remain. Not only Indonesia; South Africa is facing problems. Australia is facing problems. Brazil is technically in recession now. South Africa's growth may be only around 2 percent. Turkey's growth is under 4 percent. There are only three countries among the G20 whose growth is above 5 percent: China, India and Indonesia. The rest are under 4 percent. That is the condition that we are facing. Well, Indonesia cannot remain in [natural] resources any longer.
There was a long debate between my friends and me; [they are from] the World Bank and they said, "Let's stay with the comparative advantage like this." I told them that one day, the boom will be over and we cannot do it anymore.
Have you been to Dhaka?
At the same time, we have the rise of the middle class. Even grocery shopping has become a weekend luxury for the husband or the wife. Typically middle class, they may eat out more, a trend that was not there 15 years ago. With the signs from the middle class like this, we cannot stick to cheap labor. Bangladesh? Have any of you been to Dhaka? No offense if any of you are from Bangladesh, but if you complain about Jakarta, have you been to Dhaka? Jakarta is a complete paradise. Including the traffic.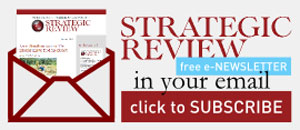 STAY CONNECTED TO SR INDONESIA