IN THE JOURNAL | INDONESIA 360
Promoting public health: Can fiscal policy play a role?
January-March 2015
This is what I see, if we are looking from this side of public health, we have to see whether we can fund it or not. That is why, when I was asked to increase the subsidy for premium care for PBIs [Penerima Bantuan Iuran – the beneficiaries of premium health care] on the demand side, I said, "Let's start from Rp 19,000 first." The health minister said that this did not make any sense. I asked, "How much do you need for it to work?" She told me Rp 19,225. "OK, let us start from that during the first year [2013]." This year we will increase it to Rp 22,000. I know that the equilibrium is Rp 26,000. But we start from something. We evaluate it, whether it works or not. And later, we increase it.
Because if not, everyone will start to ask for something ideal. It is the finance minister's job, then, to say, "No."
A Strategic Review Forum featuring Chatib Basri and other experts.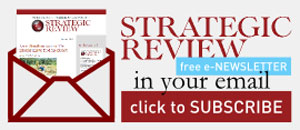 STAY CONNECTED TO SR INDONESIA